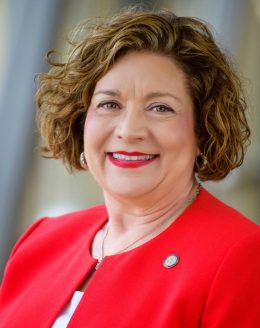 Here's how we can reduce prescription drug costs
By: Senator Carla Nelson
I hear from families almost every day who are having trouble affording their monthly medications. It's no surprise: The fastest growing area of medical expenses is the cost of prescription drugs. Many of these are drugs that people need to live.
I am authoring several bills, with bipartisan support, that will make it easier for families to afford their prescriptions.
Senate File 365 provides flat, predictable co-pays for prescription drugs. 
This bill will require health insurance companies to offer plans that allow customers to spread out the up-front cost of their prescription drugs over an entire year, making it easier for consumers to manage the costs. It is especially important for expensive life-saving drugs that treat complex conditions like cancer and rheumatoid arthritis. Few people are able to pay for these medications out of pocket until they reach their deductible.
For people with chronic health conditions, this legislation could not come at a better time. Last year, research from Harvard University and the University of California Berkeley found that just a $10 price increase for medications led not only to a decrease in patients filling their prescriptions, but also a 33% higher mortality rate. 
Several states already do this, including Colorado, and it has been successful at spreading out consumer costs. According to the Department of Commerce, this is not a mandate but a choice. 
Senate File 990 will open up access to more affordable non-name brand versions of common biological prescription drugs. 
Biologics are a relatively-new type of drug used to treat life-altering conditions. They are today's miracle drugs, but also incredibly expensive. Biological medications account for almost 40% of all prescription drug spending, making them the most significant driver of prescription drug spending in the United States. 
But there is an alternative: biosimilars. Biosimilars are affordable alternatives to biologics. According to the Food and Drug Administration, there is no clinically meaningful difference between biologics and biosimilars in safety, purity, or potency.  And biosimilars are much less expensive. Biosimilars could save families hundreds, or even thousands, of dollars per month. My bill requires health plans and pharmacy benefit managers to cover these lower-cost, non-name brand alternatives, so all patients will have access to the most affordable and effective version of their medication.
Senate File 4007 would send 100% of prescription drug rebates back to consumers instead of the health plans.
Another significant driver of prescription drug costs is pharmaceutical rebates. Manufacturers want their drugs to be covered by insurance companies, so those manufacturers provide rebates to insurance companies to keep their drugs covered. 
But what about the patient? Insurance companies should pass those savings on to you, not keep them for themselves. That is exactly what my bill does – it passes the financial benefits directly to you, the patient.
Senate File 989 will expand access to life-saving diagnostic breast cancer tests
Advanced diagnostics were the only reason I was able to detect my breast cancer at such an early stage. These follow-up screenings can be hundreds or even thousands of dollars in out-of-pocket costs. Too many women either can't afford these options, aren't aware of them, or insurance won't cover them.
My bill would require health plans to provide coverage for people who need additional diagnostic services or testing after a mammogram. It would eliminate out-of-pocket costs, including all co-pays, deductibles, and coinsurance.  
The skyrocketing costs of prescription drugs are hurting families who are already struggling with record inflation. By enacting these four reforms, we can bring prices down and help Minnesotans better afford their prescriptions.